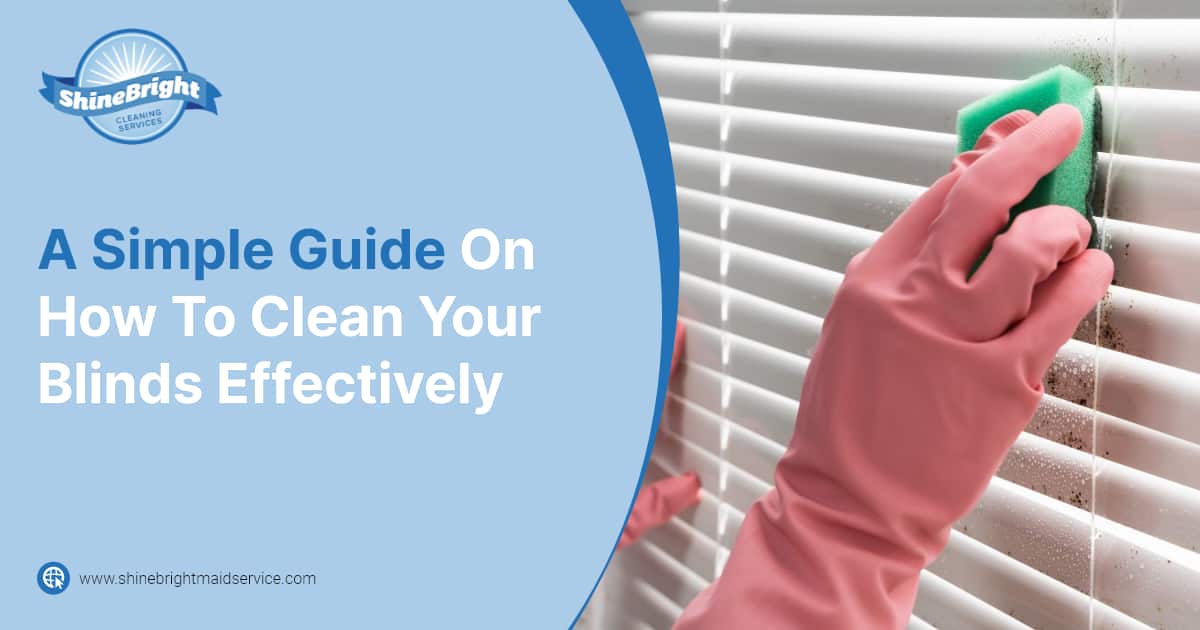 Professional maid services understand the importance of clean and well-maintained window blinds. Not only do they shield you from the scorching sun and lend an air of elegance to your space, but they also play a vital role in maintaining the overall aesthetic of your home. Dirty blinds can quickly dampen the ambiance and leave your entire house looking lackluster.
If you find yourself staring at dusty blinds, unsure of how to restore their pristine condition, worry not! You've landed in the perfect spot.
Here, we present you with a simple yet comprehensive guide that will walk you through each step, ensuring your blinds are left immaculate, just as they should be. Say goodbye to grime and hello to a refreshed and inviting atmosphere. Let's delve into the art of effectively cleaning your blinds!
Here, you'll find a step-by-step guide to leaving your blinds as clean as they should be.
Step #1. Prepare you tools
To achieve pristine blinds, you must have the right tools. First, you'll need a vacuum cleaner with a (highly recommended) brush attachment. If you don't have one handy, you can use a duster. Just remember that you'll have to clean up the fallen dust afterward.
You will also need a couple of microfiber cloths (or a non-abrasive sponge) and a bowl with soapy water. Once you have all these tools, it's time to get into the action!
Step #2. Dust off your blinds
Removing dust from your blinds is essential to prevent a muddy mess, as you'll need to use soapy water further ahead. However, before you get dusting, shut the blinds flat first! This way, your vacuum cleaner (or duster) will cover more area with less effort.
The proper dusting technique is to clean the slates from top to bottom to avoid having to clean any fallen dust again. Additionally, if you want to clean your blinds more thoroughly, you can use an air dryer in the cold setting to blow off the dust from the headrail.
Pro tip: You can clean your blinds' cord by wiping it with a microfiber cloth and soapy water.
Step #3. Spot cleaning time
To remove any lingering stains, switch your blinds so that the narrow part faces you. By doing so, you can get access to both sides of the slates at once. When everything's ready, dampen a microfiber cloth on soapy water and wipe any stain you find (you can also use a sponge).
Regarding heavily stained blinds, just wrap your microfiber cloth around those individual slates and slide the cloth along its entire length. This technique will eliminate most weak stains, while you can apply some elbow grease on the more stubborn ones.
Prevent heavy dirt: Avoid using sprays near your blinds. It can create sticky spots over your blinds, making dust easier to settle and harder to remove.
Step #4. Final touches
After you finish removing all the stains, use a slightly dampened clean rag to rinse the blinds. Then, grab another microfiber cloth and dry them thoroughly.
If you want your slates to be dust-free for longer, wipe them with dryer sheets. Doing so will cover the slates' surface with a dust-repelling layer.
Pro tip: When cleaning wooden blinds, dry every slate as soon as you finish. If not, water could swell and warp the wood.
Shine Bright Cleaning Services has more cleaning tips for you!
Thanks to our more than twenty years of experience in the home cleaning industry, we know a thing or two about cleaning chores and how to tackle them. So, if you want to keep learning helpful recommendations to maintain your house clean, visit our blog!